About me:
Myspace Contact Tables
Myspace Cursors
.. Status Icons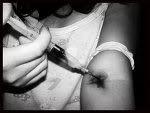 Ex Australian Army Commando...






I may not be a kid anymore, but i tend to act much younger than i am, and NEVER EVER call this a mid-life crisis. To me there is no such thing.

All throughout our lives we are going through changes, even people in their late teens and early 20's do. It's called evolution.

I am very forthright and self opinionated, and this annoys some people,but they can either live with it or hate it. Either way they are not going to change me.

I have my left ear pierced twice,and also my nipple and tongue pierced. Ialso have some tat's. There will be more piercings over the next few months.








I am more a baggy jeans and t-shirt person, and am more comfortable at a live band venue than a nightclub/disco. I was in the military for a number of years and left there as a commando.

I have worked in a number of jobs which have included sales,marketing,hotel bouncing,and have recently had a go at web design. But the effort required for what people expect to pay for a website has meant i have put a hold on that for the time being.






I am about to get my security licence back, and work at that for a year whilst i get my life back in order after some financial disasters and several years travelling the world.

I am divorced, and have custody of a beautiful and loving 18 year old son.

He has been my life for many years after i was awarded custody of him, and he always will be my life. Noone will ever change that!

More To Come....










.. type="application/x-shockwave-flash" data="http://www.media.ebaumsworld.com/pacman.swf" height="420" width="360"> ..>